THE LEGEND OF THE TINY BONE. Part IV, Rán. 2018
THE STAGE AND THE LANDSCAPE – THE AEONS OF HUMANITY
Tickets
25/23/15e
Performances
23th March - 28th April, 2018
Duration
2 hours
Place
Turku City Theatre, Sopukka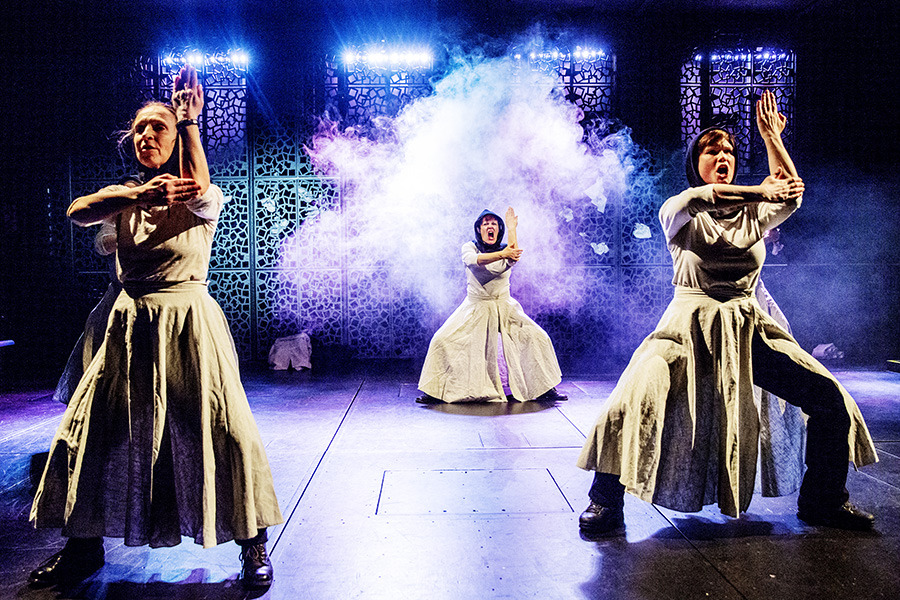 JEWISH AND ARABIC MYTHS TELL A TALE OF A TINY BONE. THE BONE IS ALMOND-SIZED. A TINY BONE. THE BONE IS INDESTRUCTIBLE.
The latest theatre production of the Kolmas Tila (Third Space) art collective, The Legend of the Tiny Bone, premieres in the Turku City Theatre on the 23rd of February, 2018.
A fascinating and fantastic journey – the ancient tale of the human race
The year is 2063 on the arctic Wrangel island, off the northeastern coast of Siberia. Marine ornithologist Rán Snorradottir (b. 2018) has arrived on the island to study its ecosystem and seabird populations. It's July, the middle of the arctic summer. What has happened on the island? What's become of the natural habitat?
Another story emerges, parallel to the expedition. The story of Snorradottir herself and the history of the human species. A tale told by the seabirds, flying through time and history itself. They document the passage of time by landing in the past and the present. The performance describes humanity's evolution through the perspective of the birds. The tale eventually takes the audience to the deep time, the era of early man.
The Legend of the Tiny Bone is a depiction of change, of wandering in time and the history of the human race. It's about attachment and connection, but also about loneliness. The performance seeks to find our locus in human experience and examines the value of humanity in the context of history. This first performance of the production combines the perspectives of natural sciences, archaeology and history with mythic imagination. It is an intersection of documentary and fictitious material.
The tiny bone and DNA
An ancient Arabic and Jewish legend tells the tale of a tiny bone in the human spine, into which the core of human essence and experience of one's dignity is encoded in the form of a riddle. The performance juxtaposes the bone with modern genetics of evolution and archaeological data. It's contrasted with DNA and the information of the genome concealed within it. According to the legend, the bone is also indestructible: a single fragment can preserve the DNA of a person long deceased immaculately. From this source, someone long departed can be created anew.

The methodology and production process
The methodology of the production is exceptional. Two directors have been researching a new approach for the past two years. The production team consists of both seasoned professionals as well as stage newcomers. The piece has been created in several stages. This new standalone drama/theater piece is compiled partly of material from workshops that took place in 2016 and 2017.
The first workshop and performance took place in June 2016 in collaboration with the Aboagora Symposium, organized jointly by the University of Turku and Åbo Akademy. The second phase performances took place in the Turku Cathedral in October 2016 and the third phase was produced again with Aboagora in August 2017.
Performers
Minna Kangas
Raimo Karppinen
Sofia Törnqvist
Kristina Vahvaselkä
Tuula Väänänen
Production group
Seppo Parkkinen, scriptwriter | Susanna Airaksinen&Juha Malmivaara, direction | Ville Aalto, sound design | Kari Mäkiranta, composing&music | Eero Erkamo, valosuunnittelu | Sari Salmela, scenography | Antton Kainulainen, technician | Robert Seger, photography | Kristina Vahvaselkä&Marika Leinonen-Vainio, production | Maria Leivonen&Emmi Kantonen, PR and communication | Pauliina Vesterinen, graphic design |