The legend of the tiny bone 7−8.10.2016
THE STAGE AND THE LANDSCAPE – THE AEONS OF HUMANITY
Tickets
10e/25e/35e.
Performances
7th October at 7 pm, 8th October at 9 pm
Place
Turku Cathedral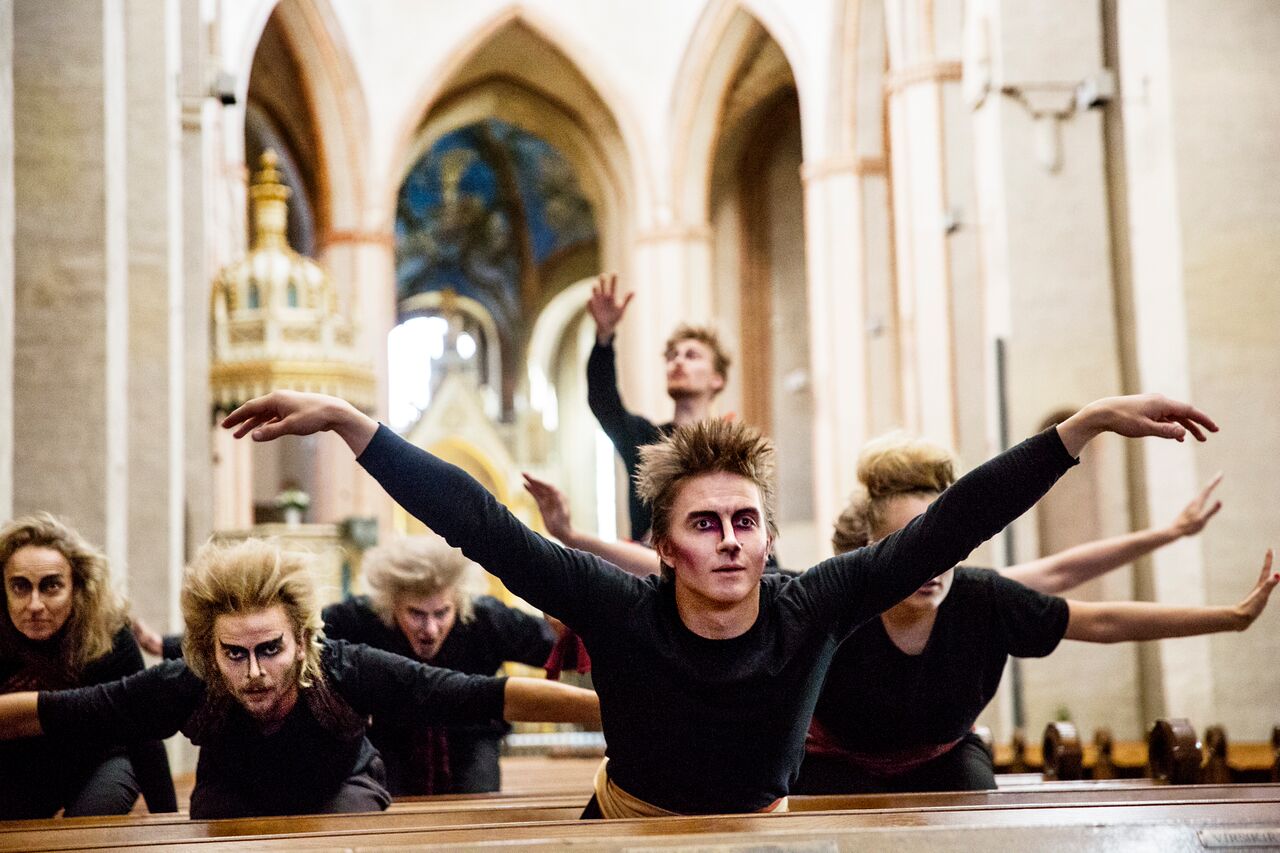 JEWISH AND ARABIC MYTHS TELL A TALE OF A TINY BONE. THE BONE IS ALMOND-SIZED. A TINY BONE. THE BONE IS INDESTRUCTIBLE.
The Legend of the Tiny Bone examines the history of man as a species, the value of human life and the relationship between human and non-human entities. The piece is a process, actualized in several independent phases. The basis and methods of the piece are exploratory. From a dramaturgical and performative perspective sound design and sound itself are important points of departure. Key concepts include homo sapiens, antropocene, archaeology and luz.
The final piece, which will contain material from all previous phases, will open in the beginning of 2018. The second phase, taking place in the fall of 2016, focuses on the Middle Ages. We are transported into the year 1138.
"It is the year 1138. The geographer, cartographer and scientist Muhammad Al-Idrisi has received an invite into the royal court of King Roger II of Sicily in Palermo. The king requests Al-Idrisi to draw a new atlas, which would contain all human knowledge of the world."
What is the tiny bone?
There is an ancient myth or legend in the Jewish and Arabic cultures of a tiny spinal bone which contains the coded riddle of the human self within. The bone is living matter, a part of our skeletal structure. But it is indestructible. According to the myth, a man's past self can be recreated from this bone alone. In Hebrew the bone is known as luz, in Arabic as ajbu adh-dhanab.
How would an integral part of me maintain the human spark in conditions aiming to destroy me?
The luz is the human essence of what might have been unique, what encapsulated man, what defined man as human. It is the equivalent of an individual big bang. This mythical concept can be compared to evolutionary and paleontological science: a single piece of bone includes the indestructible DNA of a human long since gone. What is one's genealogy?
Performers
Antti Autio
Raimo Karppinen
Hannes Mikkelsson
Ilkka Uolevi
Kristina Vahvaselkä
Tuula Väänänen
Arttu Wäänänen
Malou Zilliacus
Production group
Seppo Parkkinen, scriptwriter | Susanna Airaksinen & Juha Malmivaara, direction | Ville Aalto, sound design | Marika Leinonen-Vainio, producer | Antton Kainulainen, technician | Robert Seger, photographer | Maria Leivonen, PR and communication |